How can Squirrels damage your property?
Squirrels are in the family of rodents, and like all rodents, can cost property owners substantial amounts of money in damages to your home and lawn. Squirrel removal service Lansing, MI can identity where the squirrels are damaging the home. Squirrels most often cause damage by their chewing. Squirrels can destroy your beautiful landscaping with their digging and chewing in a very short amount of time.
Squirrel Damage to Your Lawn
All this destruction can cost large amounts of money to repair. If you have comprehensive home insurance, you may be lucky enough to have the damages covered! When a wild animal like a squirrel causes damages to your property, you might have a legitimate claim. A squirrel tearing through your garage searching through boxes and chewing up old photographs probably will not be covered, but any structural damage to your home is, more than likely, included in your coverage. If you discover you have an infestation of squirrels, as soon as it has actually been cleared, you might discover that your policy can help repair damaged roof and soffits from them chewing holes, in addition to replacing insulation, drywall, paneling, and chewed wiring.
The damage from long term problems or the waste they leave is usually excluded from your basic property owner's coverage. Maintain a tidy and neat lawn and area around your house. If animal damage is found, and you are fortunate enough that your policy will cover it, make sure to file with your insurance company as soon as you find the damage.
Squirrel Damage to Your House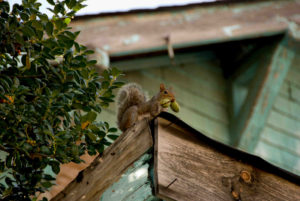 Squirrels enter your attic by eating openings from the exterior via eaves, soffits, gutter, trim, ridge caps, etc. and have straight accessibility thru building spaces behind your gutter or different other areas that allow them easy access into your home or business. These holes as well as building and construction spaces may likewise trigger serious water damage to your building. Squirrels can in addition harm attic insulation, boosting your cooling and heating costs. Squirrels also pee and defecate in the insulation triggering severe smells along with prospective health issues to your family. A lot more damaging situation is when squirrels begin gnawing on exposed electrical wires in your attic room. Squirrels are to blame for 30,000 house fires each year! If you think you have squirrels in your home, you may find yourself at first asking, "Will my insurance cover their removal and also clean-up?"
Does Homeowners Insurance Pay for Squirrel Damage?
Typically, rodent damages along with elimination aren't covered by numerous house owners insurance plan. Consider that intrusions and also damages that result from squirrels are normally considered concerns of house maintenance which leaves the exclusion and damages repair services to be left for the property owner to pay out of their pocket. Yet what happens if a squirrel chews your home's electrical wiring and also starts a fire? Your home insurance policy might start to help recover your home since fires are a covered event under most of the homeowner policies however some insurers may neglect the fire insurance claim if they find the homeowners confirm there were squirrels living in their attics and did not do anything to relieve the trouble.
What Should Your Next Step Be?
In case you require squirrel removal service for your home or business, make sure to call expert squirrel control services, prior to contacting your insurance plan representative. They can help discuss what basic resident insurance coverage will cover and also not cover. After this, you can contact your insurance provider with knowledge concerning your policy which may help in your squirrel damages declaration.
Arrange an examination with the squirrel removal experts to help you evaluate your squirrel circumstance.
Read More On
What If A Squirrel Got Inside My House?