Frederik Meijer Gardens & Sculpture Park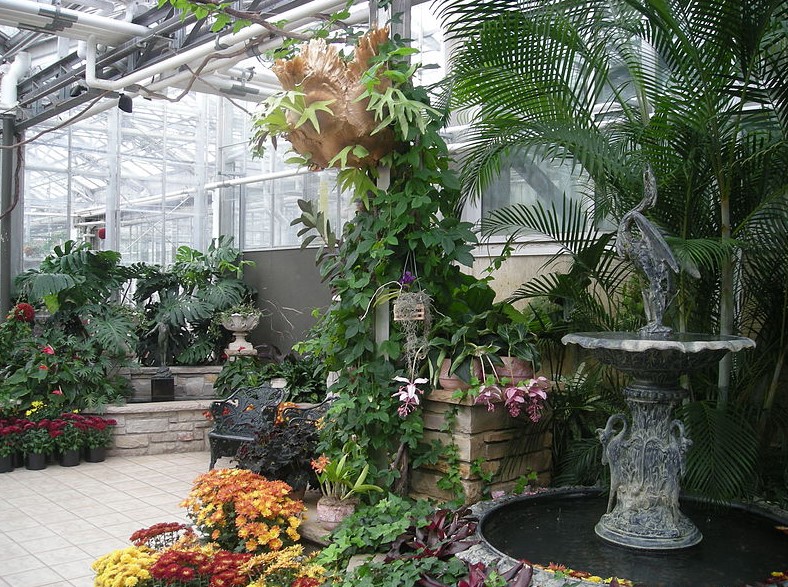 Frederik Meijer Gardens & Sculpture Park is a 158-acre (64 ha) arboretum and outside sculpture park located in Grand Rapids Township, Kent County, Michigan, United States. Frequently described as "Meijer Gardens", it rapidly became one of the most considerable sculpture experiences in the midwestern USA and is slowly earning a reputation as a cultural site of international significance.
In May 2009 it was noted as one of the "30 Must-See Museums" on the planet in 1,000 Places to See prior to You Die.  It is the second-largest Michigander traveler destination and is a featured venue of ArtPrize, which is the biggest artistic competitors whose winners are decided by public vote. In 2014 it acquired Iron Tree by Ai Weiwei and opened a Japanese Garden of 8 acres that cost $22 million. Grand Rapids Michigan Information.
Type
Sculpture park and botanic garden
Location
Grand Rapids Township, Michigan
Coordinates

42.981°N 85.591°W

Coordinates: 

42.981°N 85.591°W

Area
158 acres (64 ha)
Created
1995
Operated by
West Michigan Horticultural Society
Open
All year
Website
http://www.meijergardens.org
History
Meijer Gardens opened to the public on April 20, 1995 through the kindness of Frederik and Lena Meijer, the spouses behind the Meijer Corporation, who donated cash, land, and their whole sculptural collection to the Gardens.
In 1990 the West Michigan Horticultural Society approached Frederik Meijer concerning donating a parcel of land that he owned as a site for a botanical garden and conservatory.
In January 1991 Meijer, Inc. donated 70.7 acres (28.6 ha) of land in Grand Rapids Township, Kent County, Michigan for the Gardens' site. At the same time, Frederik and Lena Meijer contributed their entire sculptural collection to it. The "Michigan Botanic Garden", as the task was then denominated, was relabelled the "Frederik Meijer Gardens" in honor of its major benefactor.
The signature difference of the Gardens is to equally emphasize sculpture and gardening, in fulfillment of Frederik Meijer's objective of joining human visual art and the visual appeal of nature.
It is currently the 2nd most popular cultural site in Michigan, having 600,000 visitors annually, and private contributions nearly wholly fund it. The Gardens consist of the largest tropical conservatory in Michigan; three indoor thematic gardens; a Japanese Garden of 8 acres; numerous outside gardens, natural trails, and a boardwalk; sculptural galleries and long-term sculptures; a library; an audiovisual theater; a café and gift store; and classrooms and conference room. Both inside your home and outdoors, the entire property is completely handicap available.
In its first years of operation, the Gardens have attracted more than 3 million visitors. The Gardens celebrated its 15th anniversary on April 20, 2010. On May 7, 2010, the Gardens invited the 6 millionth visitor.
Cultivation
The Lena Meijer Conservatory at Meijer Gardens is a five-story, 15,000-square-foot (1,400 m2) center featuring rock landscapes by designer Philip diGiacomo and plant choices by garden designer Stephen Rosselet. The conservatory homes tropical plants from worldwide, including coconut palms from the Pacific, fig trees from India, unique orchids from Central and South America, Asiatic bamboo and banana trees. Extra indoor gardens consist of the nation's most comprehensive carnivorous plant house, arid home, including Saguaro cacti, and Victorian conservatory.
Opened on June 10, 2015, the Richard and Helen DeVos Japanese Garden of 8 acres furthers the company's double objective of gardening and sculpture. In one of the most revered horticultural designs worldwide, the Japanese Garden remains in the northeast corner of the 132-acre property and shows the essence of the Japanese tradition of tranquility, simpleness, and appeal. The design re-imagined pre-existing functions of the land: water, variation in elevation, and quietude; by a combination of cultivated and naturalistic locations.
The artful design by Hoichi Kurisu, president and founder of Kurisu International, Inc., reflects this essence through a range of horticultural aspects, consisting of zen, moss, bonsai gardens, beautiful bridges, waterfalls, and a tea home. Consisted of are contemporary sculptures by major global artists whose visual and kind harmonize with the area.
One of the sculptures is a significant work "imane stinkt" by Anish Kapoor, one of the most acclaimed contemporary artists. Circular units on the front surface area of the sculpture reflect and boost the surrounding environment while its quietude motivates meditation.
The outside gardens, by globally acclaimed landscape designer James van Sweden of Washington, D.C., and garden designer Penelope Hobhouse of Sussex, England, function four-season plantings. In September 1997 the Leslie E. Tassell English Perennial & Bulb Garden and the New American Garden were dedicated.
The Wege Nature Trail is a paved course that winds through a forested area of the property to promote awareness of the various native communities of West Michigan. It is linked to the Frey Boardwalk which results in the natural wetlands. Included on these walks are sites for bird viewing, areas of natural grassy field, a tadpole pond, and beautiful vistas.
The Gwen Frostic Woodland Shade Garden, devoted in June 1998, honors the impact of that famous naturalistic artist and author and features forest plants consisting of ferns, hostas, bleeding hearts, rhododendrons, and azaleas.
In May 2003, the Gardens opened the Michigan Farm Garden of 3-acre (1.2 ha) for families to experience gardens of treasure veggies, orchards, and figurative animal sculptures, in the context of a farm of the 1930s, finished by a barn that is 100 years and replicates the farmhouse of Lena (Rader) Meijer's childhood.
The Frederik Meijer Gardens Amphitheater opened in June 2003. As a garden itself, the Amphitheater includes tiered yard seating for 1,900 persons.
The Lena Meijer Children's Garden opened in June 2004 and is among the biggest children's gardens in the nation. This garden is an unique development of an enchanted world of plants, gardens, sculpture, and nature, consisting of imaginative and interactive areas, on 5 acres (2.0 ha). Forest tree houses and a log cabin, an interactive water garden, a butterfly labyrinth, a sensory garden, and numerous other components are included within this most enchanting of children's gardens in the Midwest.
As part of the educational objective of the Gardens, the Peter M. Wege Library has reference books and periodicals on horticulture and sculpture.