Nichols Arboretum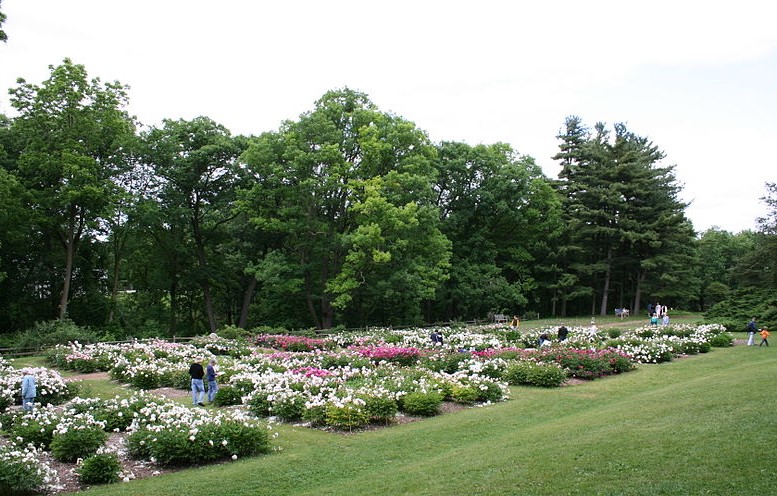 Nichols Arboretum (123 acres, 49.7 hectares), locally known as the Arb, is an arboretum operated by the University of Michigan. Located on the eastern edge of its Central Campus at 1610 Washington Heights in Ann Arbor, Michigan, the Arboretum is a mosaic of University and City homes operated as one unit. The Huron River separates a northern area of the arboretum's floodplain woods; the railroad marks the northern border. Ann Arbor Michigan Information. 
The arboretum was designed in 1906 by O. C. Simonds,  and he used the steep glacial topography to consist of areas both for collections and natural areas. Many of the older plantings date from the 1920s and 1930s. It is particularly understood for its Peony Collection, Heathdale Collection (species primarily from Appalachia), the Centennial Shrub Collection and the Dow Prairie. The University of Michigan performs regulated burns of the grassy field each year in an attempt to preserve native species and habitat.
Students flock to the Arb for a range of outdoor activities beyond assigned research studies, such as jogging, picnicking, and sun-bathing. Maps are posted, which include the length and kind of trail (gravel, stairs, and so on). The Arb is a common area for Ann Arbor's students to collect. Throughout winter, students have actually been known to go sledding in the Arb utilizing cafeteria trays from university dining halls. In current summertimes, the Arb has been the site of Shakespeare in the Arb, significant performances of Shakespearean plays, including A Midsummer Night's Dream and Love's Labour's Lost; the June 2012 production was The Merry Wives of Windsor.